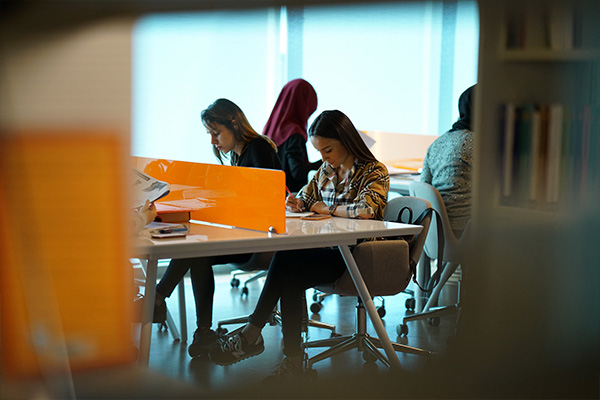 The Department of Healthcare Management offers a 4-year undergraduate education. The language of instruction is Turkish. Healthcare managers administrate public and private health systems, hospitals or other medical facilities. The job of healthcare management professionals is to ensure the smooth operation of healthcare institutions , the recruitment of qualified employees, the effective dissemination of information throughout the organization and the efficient use of resources within the framework of responsibilities to achieve the expected results. There are general healthcare managers and specialized managers. While general managers supervise whole facilities, experts focus on managing specific departments such as marketing, policy analysis or accounting.
The aim of the  Department of Healthcare Management is to educate innovative thinking and strategically oriented healthcare managers  loyal to ethical values who will lead the design, management, performance evaluation and problem solution processes of healthcare institutions that contribute to the protection, improvement and development of the health level of individuals and society.
Department Outcomes
The graduates of our program are able to comprehend, evaluate and direct the functioning of the healthcare system and its subsystems.
They have the knowledge of factors related to the development of community and individual healthcare.
In addition, our graduates are able to analyze and evaluate theoretical and practical knowledge and related developments in healthcare management by using scientific methods and computer softwares. They develop innovative solutions and apply these in healthcare institutions and organizations.
Our program is designed to train our students for being able to follow developments in the field and communicate with their colleagues and external relevant parties through information and communication technologies in written and verbal communication by using a grammar in accordance with the rules, health terminology and a foreign language at an adequate level.
In addition to the aim of educating technically skilled graduates, our program, which is prepared with the aim of providing graduates with social responsibility and sustainability awareness, educates leaders who are sensitive to health problems in the country and the world through both course contents and seminars and social responsibility activities in the university, develop solutions that will maximize social benefit, act in accordance with the social, scientific and professional ethical principles, have knowledge about the legal regulations in the field of healthcare management.
Job Opportunities for Graduates
Our graduates can work in the Medical Park Hospitals, other private hospitals, public hospitals, university hospitals, independent polyclinics, laboratories, rehabilitation centers, the Social Security Institution, the central and provincial organization of the Ministry of Health, private insurance companies, industrial firms producing medicine and medical equipment, health-related research centers, consulting firms and universities.
After their undergraduate education, they can pursue an academic career by receiving a master's and doctoral degree in their fields, and may work as a research assistant, associate professor or professor in higher education institutions.