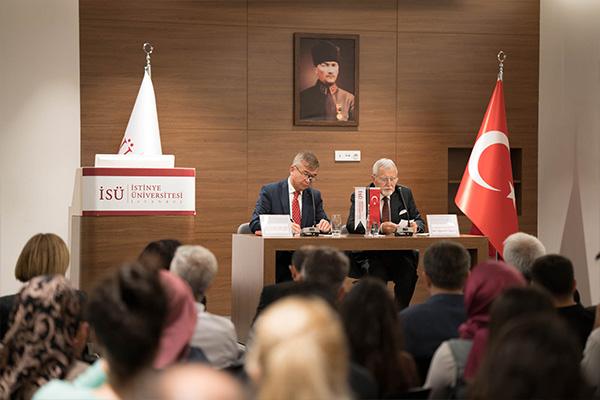 The Department of International Relations focuses on all the characteristics, historical backgrounds, and interactions of the actors involved in the international system within a theoretical perspective. The structure and functions of institutions, the foreign policy decision-making, political and economic relations constitute the main interest of analysis. In order to comprehend the multidimensional relations within the cooperation or conflict axis among the states and other non-state actors, diversified academic knowledge is essential. In order to assume a multi-disciplinary approach it is crucial to cover history, economics, political science, law, and philosophy.
The primary objective of the International Relations Department is to donate its students with the essential knowledge and scientific point of view for training them as experts. Thus, benefitting from the formation that they receive from our department they will better comprehend and interpret international developments analytically.
Program Acquisitions
The Department of International Relations donates the students with adequate level of English necessary for academic and professional activities. The students with low level of English knowledge must attend English Preparatory classes based on their level. After completing the English Preparatory class, the students are expected to pass from the English Competency exam to register undergraduate courses.  During their undergraduate education, the Department encourages students to orient to different areas via the diversity of courses (compulsory and elective) offered in the curriculum. In addition, international exchange programs support the establishment of students' careers on solid foundations along with minor and double major opportunities within İstinye University. Students are provided with the opportunity to establish one-to-one connections with successful and distinguished professionals from both public and private sector.  The support of CEO Mentorship Program, allows students to form networks from different sectors which the Department also encourages.
Job Opportunities for Alumni
Graduates can become professionals, in various governmental institutions, especially the Ministry of Foreign Affairs. They can also find job opportunities in private sector. It is a fact that international and multinational companies are eager to hire experts from our field. In addition, the graduates of International Relations can also be employed in the media sector, the financial institutions, and the non-governmental organizations. Along with these, they can also prefer to continue your career a researcher, advisor, and academic staff.