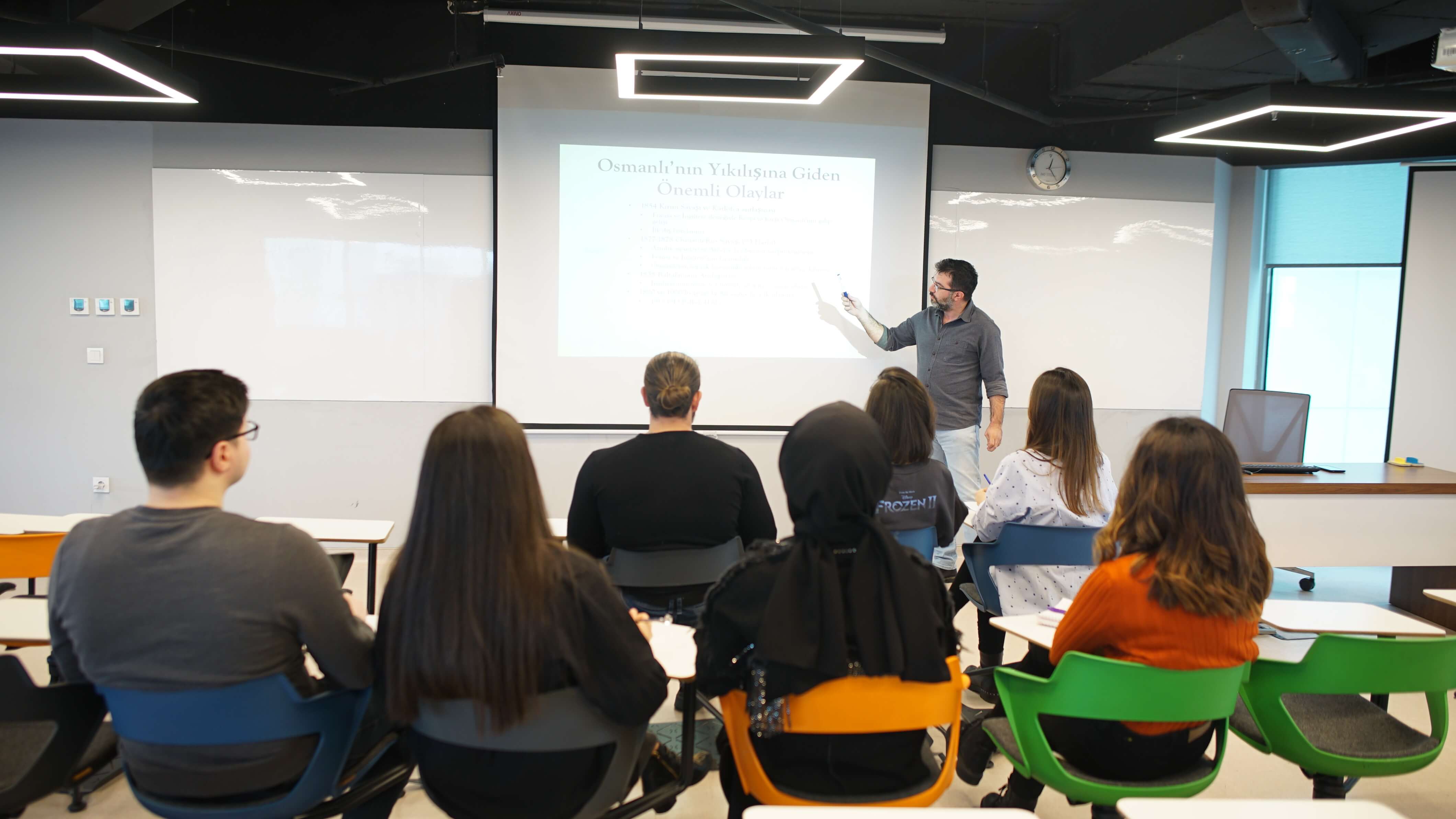 The Department of International Relations focuses on the characteristics, historical background, and interactions of all actors involved in the international system from a theoretical perspective. The structure and functions of institutions, foreign policy decision-making, and political and economic relations constitute the main object of analysis in our area. Multi-perspectival academic knowledge is essential in order to comprehend the multidimensional character of international relations in the axis of cooperation and conflict among states and other non-state actors. Also needed is a multi-disciplinary approach that covers several areas of research such as history, economics, political science, law, and philosophy. Our department strives to these conditions outcomes.
The primary objective of the International Relations Department is to provide students with essential knowledge and scientific perspectives necessary for becoming area experts. Thus, benefitting from the formation that they receive from our department, students will develop strong knowledge and skills to better comprehend and interpret international developments in analytical framework.
Program acquisitions
The Department of International Relations offers students an opportunity to acquire adequate levels of English necessary for academic and professional success. Students with lower levels of English skills must attend English Preparatory classes based on their level. After completing the English Preparatory classes, students are expected to pass the English Competency exam to register for undergraduate courses. During their undergraduate education, the Department motivates students to canalize into different areas thanks to a wide diversity of courses (compulsory and elective) offered in the curriculum. In addition, international exchange programs support the establishment of students' careers on solid foundations along with minor and double major opportunities at İstinye University. Students are provided with the opportunity to establish one-to-one connections with successful and distinguished professionals from both the public and private sector. Also encouraged by the Department is the "Mentor'un CEO Olsun" (Get a CEO Mentor!) Program, which allows students to form networks from different sectors.
Job Opportunities for Alumni
Graduates can become professionals in various governmental institutions, especially the Ministry of Foreign Affairs. They can also find job opportunities in the private sector. It is an undisputable fact that international and multinational companies are eager to hire experts from our field. In addition, the graduates of International Relations can also be employed in the media sector, financial institutions, and non-governmental organizations. Moreover, they can also prefer to continue their career as researchers, advisors, and academic staff members.
Uluslararası İlişkiler Bölümünün öncelikli amacı öğrencilerini bu alanın temel bilgileri ve bilimsel bakış açısıyla donatmak, onları uluslararası gelişmeleri analitik biçimde kavrayabilecek, yorumlayabilecek düzeyde bilimsel formasyona sahip uzmanlar olarak yetiştirmektir.
Programın Kazandırdıkları
Uluslararası İlişkiler bölümü, İngilizce eğitim dili ve bir yıllık hazırlık eğitimi sayesinde, öğrencilere akademik bir seviyede İngilizce öğrenme olanağı sunar. Dört yıllık eğitim süresince, müfredattaki derslerin çeşitliliğiyle öğrencilerin farklı alanlara yönelmesini teşvik eder. Ayrıca, uluslararası değişim programları, yan dal ve çift ana dal imkanları ile öğrencilerin kariyerlerinin sağlam temeller üzerine kurulmasını destekler.
Ulusal ve uluslararası alanda önemli başarılar elde etmiş profesyoneller ve "Mentor'un CEO Olsun" Programı kapsamında özel sektörde uzman kişiler ile öğrencilerin birebir bağlantı kurabilmeleri sağlanarak, farklı deneyimler kazanmalarını mümkün kılar.
Mezunların İş Olanakları
Mezunlar, devlet bünyesinde çeşitli kamu kuruluşlarında veya uluslararası ilişkiler alanında yetişmiş uzmanların etkin katılımlarının olduğu özel sektör kuruluşlarında, alanında uzmanlaşmış profesyoneller olarak meslek sahibi olabilirler. Başta Dışişleri Bakanlığı olmak üzere, kamu kuruluşlarında uzman olarak çalışabilirler. Ayrıca özel sektörde, finansal kurumlarda, uluslararası kurum ve kuruluşlarda ve sivil toplum kuruluşlarında istihdam edilebilirler.