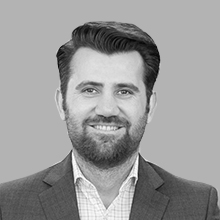 Cem Duran,

Dr.

Faculty Member
Cem Duran who graduted from department of maritime transportation Management engineering in 2000 in İstanbul University, later in the same time he completed in Marketing in Marmara University and Finance in İstanbul Technical University. Cem Duran graduated from ITU Business Engineering Department in 2016 and his thesis subject is Customer Experience Management. With the completion of the thesis he got his doctor's title. After graduation, he has worked in Behavioral Sciences Institute for 2 years as a ''Marketing Expert''and then he has lived in New York for 6 months. At these times, he attended the ''Coaching Skills for Manager'' certification program at New York University. After returning to the country in 2007, he worked as a "Business Development Manager" in Istanbul Deniz Otobüsleri (İDO) for 5 years and he took part in an active role in İDO's privatization process. In the same period, he has found ''Photoshoter'' which is Turkey's first and only Photo Marketing Agency. Since the beginning of 2012, he has taken different tasks in all processes in Etohum, especially application evaluation processes and he has been mentoring different entrepreneurs on different projects. He lectured ''Marketing Principles'' and ''Marketing Management'' at Istanbul University Engineering Faculty. In 2014, he started to work YTU as a tecnology transfer manager. Within this period, he has advised many TTOs during the establisment process. In the same period, he also served as a assistant general manager at YTU Technopark. At the end of 2016, he resigned all his tasks about YTU. He is currently working at İstinye University and he is mentoring internet entrepreneurs in Etohum.
Research Areas: Marketing, Customer Experience, Innovation and Entrepreneurship
Main Areas: Pazarlama, Müşteri İlişkileri Yönetimi, Girişimcilik ve Pazarlama,
2018 - A SEGMENTATION BASED ANALYSIS FOR MEASURING CUSTOMER SATISFACTION IN MARITIME TRANSPORTATION
EKİNCİ YELİZ,URAY NİMET,DURAN CEM.
TRANSPORT,
33(1),
104-118.
2018 - Research Journal of Business and Management,
DURAN CEM,URAY NİMET.
Managing and Measuring Customer Experience : A Literature Review,,