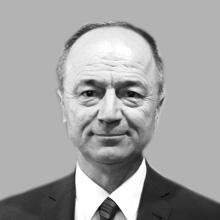 Fahri Erenel,

Assoc. Prof.

Öğretim Üyesi, EPAM Müdürü
He successfully completed the department of economics in 1980 and graduated from the Military Academy as an Infantry Officer, and the Military Academy as a Staff Officer in 1991. He completed the Armed Forces Academy in 1993. He completed his Master's Degree in Educational Management and Supervision at Beykent University, Occupational Health and Safety at Yeni Yüzyıl University in 2017, PhD in Human Resources Management at Istanbul University in 2006, and his undergraduate degree in Sociology at Istanbul University in 2018. He served at various levels of the Turkish Armed Forces between 1980-2010. He was promoted to Brigadier General in 2005. He worked as a practitioner and planner in Combating Terrorism for about 8 years (Şırnak, Hakkari, Ağrı and Tunceli). He worked on the front line in Cyprus for 2 years. He took part in the work on the planning of the security strategy of Azerbaijan and gave Azeri officers training in Azerbaijan. He planned and implemented the trainings of the personnel who received training on border management and received border training during the Brigade Command. He took part in system security and material supply and contract management in border security studies. National Action Plan for the Implementation of Turkey's Integrated Border Management Strategy has been involved in the study. All kinds of supply and important weapons, ammunition, vehicles, etc. of the Armed Forces at the Ministry of National Defense for 3 years. He was the President of the Procurement Department, where the project activities were carried out. He took part in public procurement legislation studies and Planning-Programming and Budgeting processes. He has been trained in the search and rescue activities in AKUT Search and Rescue Association. He is a class B occupational safety specialist. He has many studies in the field of Occupational Health and Safety. In 2017, he became an Associate Professor in Management and Strategy. He has been teaching Defense Planning, Management and Security and Strategy for 10 years at the National Defense University's Institute of Strategic Research. He worked as a founder, manager, faculty member and a member of various commissions in different academic units at Istanbul Altınbaş University between 2011-2017. In addition to his duty as the Director of the Institute of Social Sciences, he also serves as the Director of the Center for Economics and Political Studies. He lectured. 21 He was the advisor of the master's thesis. He has many national and international articles and papers. He has books and chapters titled "War of Mind", Presidential Government System, Current Overview of Disaster and Emergency Management, written on Measurement and Evaluation, Analysis of Open-ended Questions and Answers, and Counter-Terrorism. He regularly writes monthly articles in Defense Magazine and OHS Gündem journals, and regularly participates in the Mind Room program on TVNET for analysis on foreign policy and security issues. He is a referee in various academic journals. Turkish Armed Forces Military Sciences Research Center Honorary Member. Turkish Asian Strategic Research Center (TASAM) Vice President, Technical and High Level Occupational Safety Educators Association (TÜMGED) Vice President, National Occupational Health and Safety Federation Vice President, Occupational Safety Professionals Association, Smart Cities Innovation Association, AKUT Search and Rescue Foundation, Istinye University Security Research Center continues its membership. He is a member of the Association of People Management (PERYÖN) and a member of the Central Strategy Institute Advisory Board. AKUT Sports Club is a licensed athletes.He has participated in and continues to participate in many ultra marathons and marathons. He speaks German and English.
Research Areas: International Relations and Defense Policies, International Terrorism, Leadership, Disaster Managment, Occupational Health and Safety, Educational Management and Supervision
Main Areas: Yönetim ve Strateji, Kurumsal Yönetişim, Stratejik Yönetim,
2020 - Doğu Akdeniz'in Yeni Aktörleri:Rusya ve Çin
ERENEL FAHRİ.
Avrasya Dosyası,
11(2),
120-144.
2019 - Doğu Akdeniz ve Kıbrıs Adası :Artan Önem ve Artan Aktör Sayısı
ERENEL FAHRİ.
Stratejist,
2019 - Doğu Akdeniz Güvenlik Algılamaları Bağlamında, Kalıcı Yapılandırılmış İşbirliği Savunma Anlaşması(PESCO) ve Enerji Güvenliği Meselelerinin Avrupa Birliği-Türkiye İlişkilerine Olası Yansımalarını Anlamak
KISACIK SİNA,ERENEL FAHRİ.
Türkiye Siyaset Bilimi Dergisi,
2(1),
51-76.
2019 - Muharebeye Toplumbilimsel Bir Bakış
ÇAYA SİNAN,ERENEL FAHRİ.
Sosyal Bilimler Dergisi(SOBİDER),
6(41),
98-115.
2018 - The Applicability of Program Management Approach in the Defense Acquisition Projects in Order to Avoid Deviations
EREN ÖZHAN,ERENEL FAHRİ.
İnsan ve İnsan Bilim Kültür Sanat ve Düşünce Dergisi,
5(17),
163-193.
2016 - Defense Industry Clusters in Turkey
Demir Kadir Alpaslan,ERENEL FAHRİ,CAYMAZ EBRU.
Jorunal of Defense Resources Management,
1(12),
7-20.
2016 - Open Innovation in Human Resources and the Use ofCrowdsourcing
BOZAT ZEYNEP AYFER,ERENEL FAHRİ.
Modern Management Science and Engineering,
4(1),
43-52.
2015 - The Effect Of Path Goal Leadership Styles On Work Group Performance A Research On Jewellery Industry In Istanbul
ERENEL FAHRİ.
Journal of Management, Marketing and Logistics,
2( 2015),
360-376.
2015 - An Exploratory Research On Diversity Management The Turkish Case with Special Reference To The Position Of Senior Citizens
ERENEL FAHRİ.
International Journal of Economics, Commerce and Management,
3(5),
1007-1014.
2015 - Savunma Planlamasında Enerjinin Önemi
CAYMAZ EBRU,ERENEL FAHRİ.
Milli Güvenlik ve Askeri Bilimler Dergisi,
2(7),
23-30.
2015 - Evolution of Organizational Niches A Study on General and Specialist Organizations
ERENEL FAHRİ.
International Journal of Human Sciences,
12(2),
611-624.
2014 - The Relationship Between Corporate Sustainability And Corporate Social Responsibility In Business Global Compact Turkey
CAYMAZ EBRU,SORAN SEMİH,ERENEL FAHRİ.
Journal of Management, Marketing and Logistics,
1(3),
208-217.
2014 - Uluslararası Örgütlerin Güvenlik Sorunlarının Çözümünde Yeterliliği:Afrika Birliği Örneği
ERENEL FAHRİ,CAYMAZ EBRU.
İstabul Gelişim Üniversitesi Sosyal Bilimler Dergisi,
1(1),
117-135.
2013 - Validation of a Conscientius Corporate Brand Framework A Turkish Study
BAŞ TÜRKER,ÜLGEN AYDINLIK ARZU,SVENSSON GÖRAN,MYSEN TORE,ERENEL FAHRİ.
International Journal of Business and Globalisation,
10(2-2013),
173-184.
2013 - The Effect of Ladership Charisma Engagement and Group Belonging on Volunteer Work Performance AKUT Search and Rescue Association Example
CAYMAZ EBRU,GÜRER BURAK,ERENEL FAHRİ.
International Journal of Human Sciences,
10(1),
1-19.
2012 - Personel Temin ve Seçim Sürecinde Adaylarda Oluşan Adalet Algısının Örgüte Etkilerinin Analizi
ERENEL FAHRİ.
Maliye Finans Yazıları,
26(95),
9-20.
2011 - Üniversite Öğrencilerinin İşveren Seçim Kriterlerinin Belirlenmesine Yönelik Keşfedici Bir Araştırma
BAŞ TÜRKER,ÜLGEN AYDINLIK ARZU,ERENEL FAHRİ.
Ege Akademik Bakış,
11(3),
439-452.
Management and Organization: Various Approaches
2019 - İngilizce, Bilimsel Kitap
ISBN: 978-3-631-78282-8


EZİLMEZ BİLAL
Acil Durum ve Afet Yönetimine Güncel Bir Bakış
2020 - Türkçe, Bilimsel Kitap
ISBN: 978-605-033-206-3


ERENEL FAHRİ,CAYMAZ EBRU
Türkiye'de Yeni Bir Yönetim Modeli:Cumhurbaşkanlığı Hükümet Sistemi
2020 - Türkçe, Bilimsel Kitap
ISBN: 978-605-033-103-5


ERENEL FAHRİ,ÇINAR MEHMET FATİH
Geleceğin Güvenliği
2019 - Türkçe, Bilimsel Kitap
ISBN: 978-605-4881-32-13


ERENEL FAHRİ
Tarih-Toplum-Hukuk Bağlamında Siyaset Bilimi ve Uluslararası İlişkiler Yazıları
2019 - İngilizce, Bilimsel Kitap
ISBN: 978-605-7604-07-1


ÖZDEMİR BURCU,ERENEL FAHRİ
Management and Organization: Various Approaches
2019 - İngilizce, Bilimsel Kitap
ISBN: 978-3-631-78282-8


ERENEL FAHRİ
A CRITICIAL REVIEW OF SOCIAL SCIENCE: THEORY AND PRACTICE
2018 - İngilizce, Bilimsel Kitap
ISBN: 978 93 81043 28 8


ERENEL FAHRİ,ÖZDEMİR BURCU
Aklın Akılla Savaşı
2016 - Türkçe, Araştırma (Tez Hariç) Kitabı
ISBN: 9786-055729684


ERENEL FAHRİ
(2019),
"TASAM Stratejik Vizyon Sahibi Bilim İnsanı Ödülü",
"Sivil Toplum Kuruluşu",
"İSTİNYE ÜNİVERSİTESİ",
"DOÇENT",
"Yurtiçi kurum ve kuruluşlarından alınan bilim ödülü",
"Türk Asya Stratejik Araştırmalar Merkezi-TASAM",
Bilim - Sanat Ödülleri
(2002),
"Eser Yazma Başarı Ödülü",
"Kamu",
"ALTINBAŞ ÜNİVERSİTESİ",
"DOKTOR ÖĞRETİM ÜYESİ",
"Yurtiçi kurum ve kuruluşlarından alınan bilim ödülü",
"GENELKURMAY BASKANLIGI",
Çalışma Ödülü
(2012),
"Askeri Araştırmalar Merkezi Onur Üyeliği",
"Kamu",
"ALTINBAŞ ÜNİVERSİTESİ",
"DOKTOR ÖĞRETİM ÜYESİ",
"Yurtiçi kurum ve kuruluşlarından alınan bilim ödülü",
"GENELKURMAY BAŞKANLIĞI",
Bilim - Sanat Ödülleri
(2019),
"Akademik Onurlandırma",
"Üniversite",
"İSTİNYE ÜNİVERSİTESİ",
"DOÇENT",
"Yurtiçi kurum ve kuruluşlarından alınan bilim ödülü",
"İSTİNYE ÜNİVERSİTESİ",
Çalışma Ödülü