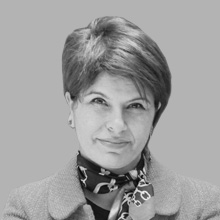 Gülhan Kalmuk,

Dr.

Faculty Member
Completing her undergraduate education in Hacettepe University School of Nursing in 1987, Gülhan Kalmuk completed her master's degree in Baskent University Healthcare Management Program in 1998. She completed her doctorate at Okan University, Institute of Social Sciences, Department of Business Administration in 2016. Between 1987 and 1998, she worked as the Head of Nursing and Head Nursing at Başkent University Ankara Hospital, as the Inventory and Materials Management Unit Responsible between 1998 and 2001, as the Assistant Coordinator of the Total Quality Management Health Unit, and as the Deputy Director of the Hospital between 2001-2006. She worked as the Hospital Manager of Başkent University Istanbul Hospital between 2006-2009. She worked as a part-time lecturer at Okan University Vocational School between 2009-2010, and as a lecturer at Yeni Yüzyıl University Vocational School of Health Services between 2010-2016 and served as the Head of the Program. Dr. Lecturer. As of October 2016, Gülhan Kalmuk, a member, has been a member of the academic staff at Istinye University Faculty of Health Sciences as an Assistant Professor. In 2016-2017 academic year, she served as the Deputy Chair of the Department of Nutrition and Dietetics. As of 2017 academic year, she has been working as the Head of Department at Istinye University Faculty of Economics and Administrative Sciences, Department of Health Management. As of 2018-2019 academic year, she is continuing her Coordination of Health Management Graduate Program simultaneously.
Research Areas: Strategic Management, Health Management, Research Methods, Culture in Healthcare Institutions
Main Areas: Yönetim ve Strateji, Sağlık Kurumları Yönetimi,
2015 - The effect of quality orientation and learning orientation on firm performance
KALMUK GÜLHAN,ACAR AVNİ ZAFER.
Pressacademia,
2(4),
455-455.
2015 - The Mediating Role of Organizational Learning Capability on the Relationship Between Innovation and Firm'xxs Performance: A Conceptual Framework
KALMUK GÜLHAN,ACAR AVNİ ZAFER.
Procedia - Social and Behavioral Sciences,
210(),
164-169.