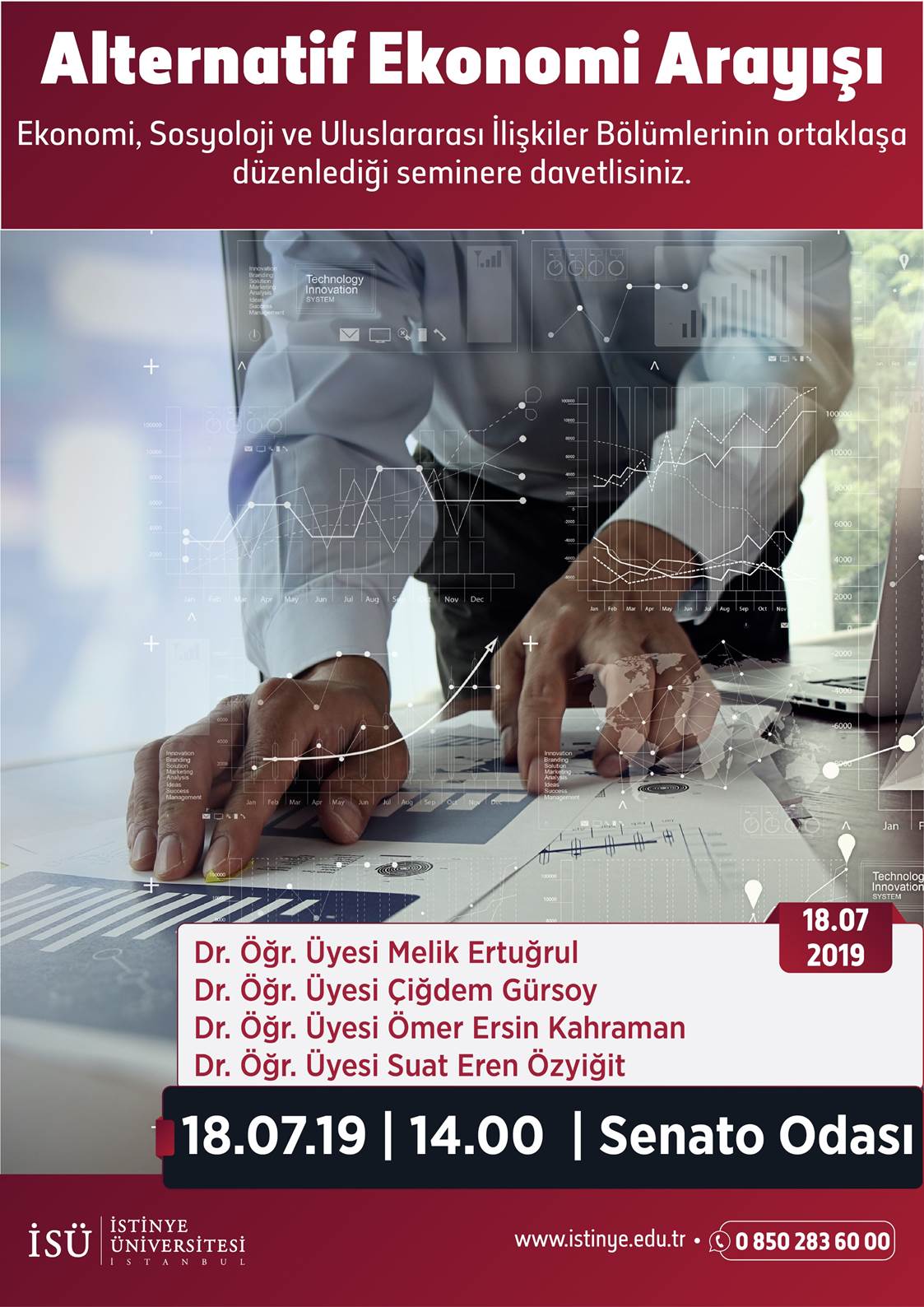 Istinye University departments of Economics, Sociology and International Relations jointly organized a seminar titled "Quest for an Alternative Economy" on 18 June, 2019. Asst. Prof. Melik Ertuğrul, Asst. Prof. Çiğdem Gürsoy, Asst. Prof. Suat Eren Özyiğit and Asst. Prof. Ömer Ersin Kahraman made presentations.
In his presentation titled "Industry 4.0, Artificial Intelligence and the Driving Forces Behind", our Head of Department Asst. Prof. Melik Ertuğrul expressed that the given economic system causes different results in different countries and it cannot be seen as a general blueprint due to the fact that country-specific factors determine the functioning of economic systems. Mentioning the economic crash in Argentina, he explained cheap labor based Chinese economic model and the smart production model that is being developed  by the Western countries in the struggle against China. He also, by mentioning the issue of artificial intelligence which is in the focus of current debates from the perspective of China, emphasized how the issue will shape the future economic system and the position in which our country should be. In this context, he shared statistical information about R&D expenditures using a dataset of the companies publicly-traded in BIST (Borsa İstanbul) between the years 2009-2018 and he stressed that there is a long way to come for us to take part as a strong player in the future economic system.
Asst. Prof. Çiğdem Gürsoy from the Department of Economics discussed the economic structure, the functioning and the institutions of the Ottoman Empire on the basis of concepts and made comparisons with the economic functioning of the present day.
The Head of the Department of Sociology, Asst. Prof. Ömer Ersin Kahraman, explained  the appearance of money, its political and social background in his speech mentioning the economic approaches of Adam Smith, David Graeber and Karl Polanyi. He emphasized that the philosophical roots of economics should be taken into consideration in order to understand present free markets and crises.
Asst. Prof. Suat Eren Özyiğit from the Department of International Relations conveyed the example of the North Korea which he studied as a different economic model in our era. He discussed the official ideology and the management policies of the North Korea.