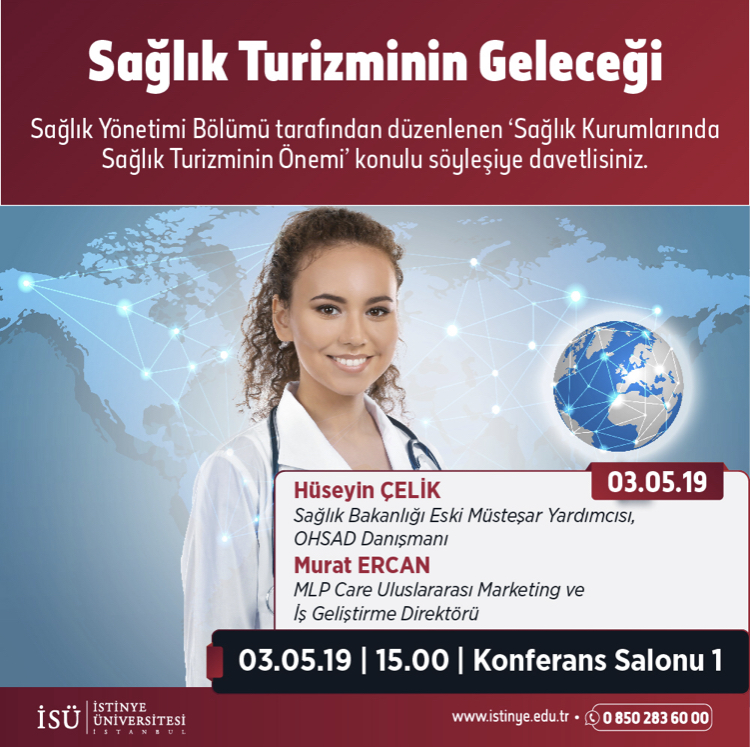 The interview titled 'The Future of Health Tourism ği organized by the Health Management Department was held on Friday, May 3 with the participation of Hüseyin Çelik, former Deputy Undersecretary of the Ministry of Health and Adviser of OHSAD and Murat Ercan, International Marketing and Business Development Director of MLP Care. The importance of health tourism in health institutions and future vision was discussed in the interview, health management department undergraduate and graduate students and faculty members of our university showed interest.
Ercan Murat speech in Turkey in a period of about ten years, told of developments in the field of health tourism. Ercan emphasized that the concept of health tourism is now inadequate and replaced by international health services as the institutions in our country begin to provide services abroad and as a result of the branding of national health care institutions with new partnerships established in the region. He stated that the target of the marketing of the institutions of our country in international health services should be service excellence and 100% satisfaction.
Our second speaker, Hüseyin Çelik, talked about the legalization processes that enable health tourism during his career, starting from his own career journey. Stressing that the diligent work of health managers in the field provides the international success that hospitals come from today, Çelik emphasized that the vision of hospital management, which responds quickly to needs, makes this success possible. Celik advises our students to be self-confident and good at learning English.
At the end of the interview, the speakers answered the questions; Gülhan Kalmuk presented the documents of gratitude and ended the program.