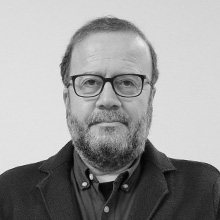 Nezih Erdoğan,

Prof.

Öğretim Üyesi
Nezih Erdoğan teaches "Screenwriting", "Digital Storytelling", "Screenwriting", "Film Theory and Criticism" and "Film History" at Istanbul Istinye University. He has published articles and book chapters on colonial discourse and sound and body in Turkish popular cinema, the reception of Hollywood in Turkey, censorship and the distribution-exhibition of American films in Turkey. He co-edited with Miyase Christensen Shifting Landscapes: Film and Media in European Context (2009). His book Sinemanın İstanbul'da İlk Yılları came out in 2018. He is currently working with Ebru Kayaalp on a book edition titled "Exploring Moving Images of the Past in the Digital Age: Forgetting the Archive" from Amsterdam University Press forthcoming in 2022.
Research Areas: Film Theory, Film Studies, Film History
Main Areas: Sinema, Sinema Tarihi, Sinema Kuramları,
2000 - Veiled and Revealed
ERDOĞAN NEZİH.
Postmodern Culture,
0-.
2000 - Narratives of resistance: national identity and ambivalence in the Turkish melodrama between 1965 and 1975
ERDOĞAN NEZİH.
SCREEN,
39(),
259-271.
SİNEMANIN İSTANBUL'xxDA İLK YILLARI: MODERNLİK VE SEYİR MACERALARI
2017 - Türkçe, Bilimsel Kitap
ISBN: 13: 978-975-05-2286-4


ERDOĞAN NEZİH
Eskimeyen Filmler/Timeless Movies 2
2018 - İngilizce, Araştırma (Tez Hariç) Kitabı
ISBN: 978-605-9125-73-4


İŞLER SEVİNDİ MELTEM,BOSTAN MESUT,AYDINLIK YASİN,ÖZYILMAZ YILDIZCAN ÖZGE,ÇELİKCAN PEYAMİ,GÖKÇEK YUSUF ZİYA,TIRPAN MURAT,ERDOĞAN NEZİH
Eskimeyen Filmler / Timeless Movies
2017 - İngilizce, Araştırma (Tez Hariç) Kitabı
ISBN: 978-605-9125-58-1


İŞLER SEVİNDİ MELTEM,CERAN YAYLA GÜL,AYDINLIK YASİN,SEVİNDİ KORAY,ERDOĞAN NEZİH,BOSTAN MESUT,ÖZYILMAZ YILDIZCAN ÖZGE,ÇELİKCAN PEYAMİ,GÖKÇEK YUSUF ZİYA,TIRPAN MURAT