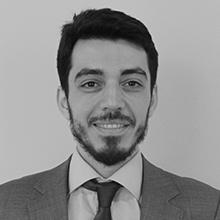 Melik Ertuğrul,

Dr.

Faculty Member
Melik ERTUĞRUL graduated from Boğaziçi University, Department of Civil Engineering in 2010. He earned his MBA degree at Middle East Technical University in 2013 and he completed the Ph.D. in Management Program at Galatasaray University in 2017. Currently, he has two academic positions at Istinye University: the Head of the Economics Department and the Assistant Manager of the Center of Economic and Political Research. In addition to teaching at Istinye University, he has taught several finance, economics and accounting courses at Galatasaray University and Istanbul Technical University, and he currently teaches several courses in these Universities. ERTUĞRUL has several published academic articles and has experiences in credit evaluation and financial analysis as a result of working mainly in the public finance sector during his professional career. He is also the Manager of Technology Transfer Office since March 2019. He conducts research in accounting quality, corporate finance, corporate governance, and takeovers.
Main Areas: Muhasebe, Finansal Muhasebe , Muhasebe Teorisi ,
ERTUĞRUL MELİK.
(2019),
Kapsamlı Gelirin Değer İlişkisine Yönelik Uluslararası Literatür Taraması,
Mali Çözüm,
29(155),
55-80.
ERTUĞRUL MELİK,DEMİR VOLKAN.
(2018),
How Does Unobserved Heterogeneity Affect Value Relevance?,
Australian Accounting Review,
28(2),
288-301.
DEMİR VOLKAN,ERTUĞRUL MELİK,gür ece.
(2016),
DEGER ILISKISI ÜZERINE ULUSLARARASI YAYINLAR,
Mali Çözüm,
26(130),
13-31.
ERTUĞRUL MELİK
(2019),
"Handbook of Research on Global Issues in Financial Communication and Investment Decision Making",
"İngilizce",
Sosyal, Beşeri ve İdari Bilimler Temel Alanı->Muhasebe,
Bilimsel Kitap
ERTUĞRUL MELİK
(2019),
"Handbook of Research on Global Issues in Financial Communication and Investment Decision Making",
"İngilizce",
Sosyal, Beşeri ve İdari Bilimler Temel Alanı->Muhasebe,
Bilimsel Kitap
ERTUĞRUL MELİK
(2018),
"Muhasebe Verilerinin Değer İlişkisi",
"Türkçe",
Sosyal, Beşeri ve İdari Bilimler Temel Alanı->Muhasebe,
Bilimsel Kitap