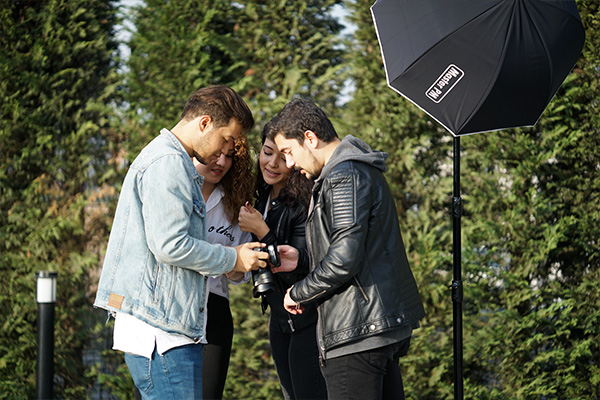 To produce something in the fields of radio, television and cinema, to design works in the most appropriate format for each media platform, to analyze the target audience, and to develop messages in line with the nature of these media, producers should have professional competence as much as a great responsibility towards the society. Istinye University Radio, Television, and Cinema department curriculum is developed based on this approach, and the students in our department are trained to be individuals who act according to professional ethics and principles with in-depth knowledge of visual and textual codes and an ability to reflect their individual aesthetical approach in their work.
One of the strengths of our department is that our program encourages individual works along with collaborative group works. Our students gain experience in various areas, such as teamwork, distribution of roles in a group assignment, time and stress management, and working with individual responsibility within group dynamics. They experience a sectoral simulation with the contribution of hands-on training beyond the classroom. Furthermore, though an emphasis on such practical training, our program helps them develop a portfolio before moving on to professional life.  
The curriculum is developed according to the interdisciplinary nature of the field, and it includes theoretical and practical courses aimed at providing both a theoretical foundation as well as technical competence for RTC students. Besides compulsory courses, our students can select elective courses with the guidance of their advisors and specialize in a certain area they wish to work in.
What are these areas?
Our graduates can take on various roles, including those in front of the camera or behind the camera, at news centers, media and film production companies, such as directors, lighting directors, sound engineers, editors, cinematographers, and screenwriters. Besides, thanks to the academic background they will gain throughout their studies, the students will have the opportunity to develop an academic career by continuing their education at graduate and doctorate levels.